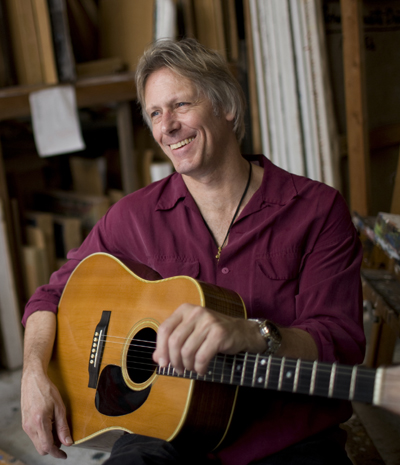 Jon Pousette-Dart
Jon Pousette-Dart captained the Pousette-Dart Band through four albums for Capitol Records between 1976 and 1980, a run that acquainted a generation with his formidable gifts as a singer, songwriter, guitarist and all-around musical adventurer. During this time, the Pousette-Dart Band became one of the busiest touring groups in the U.S. working with such acts as the Byrds, Bonnie Raitt, Little Feat, James Taylor, Peter Frampton, Yes, the J.Geils Band, Eddie Money, Journey and Billy Joel.
"When things got scary - as the seventies petered out and the eighties skulked in," Pousette-Dart muses, "while folks were trying to figure out how they ever got stuck in the position of having to choose between Donna Summer and Johnny Rotten, the original Pousette-Dart Band did what any halfway moral, responsible band would do - we took a break." Pousette-Dart, himself, however, kept on trucking...
Check out more at Jon's website.
---
Jason White
Nashville singer/songwriter Jason White is no stranger to controversy, establishing his writing career with the song "Red Ragtop". Jason's version of the song was played on Lightning 100 radio station in Nashville. Tim McGraw picked up the record's brooding "Red Ragtop" and made it into a controversial hit. The Cleveland native was introduced to music and songwriting at an early age by listening to albums from groups such as Elvis, the Beatles, and Bob Dylan. During his college years, Jason formed his own band called the Janglers. In the late 90s BMI brought Jason to Nashville to demo some of his songs, which led to a record deal with Universal. He made his first record for the label (Confessions On The Overpass) with producer John Simon who produced acts like Janis Joplin and Simon & Garfunkel. After leaving Universal, he collaborated with producer Viktor Krauss on his own records Shades of Grey and Tonight's Top Story; and signed a publishing deal with Acuff-Rose.
Jason White's long-awaited new album The Longing is due out this spring. The eleven song collection will be released by Better Angels Music. During the last year, Jason's compositions have been recorded by Russell Hitchcock, Swan Dive, and Eric Wilson. On his debut album, Shades of Gray, Jason White proved he had a knack for gritty storytelling couched in fluent pop. Currently living in Nashville with his wife Andrea Barrett, he is writing for Better Angels Music Publishing and working on a new record entitled, Love And/Or The Lack Thereof.
Check out more at Jason's Website.
---
Gary Ogan
As a veteran of 40 years in the music business, Gary maintains a youthful enthusiasm in his quest for new music and fresh projects. From his first major label release on Elektra records in 1972, called Portland, Gary has created an ever-evolving world of musical activity. Moving to Los Angeles in 1977 to sign with Leon Russell's Paradise Records on the Warner Brothers label, Gary released his first self-titled album that year, co-produced with Russell. He also co-produced Leon and Mary Russell's second duet album, Make Love To The Music, and toured the U.S. extensively with them, including shows at New York's Radio City Music Hall, and the Universal Amphitheater in L.A.

In the mid-90's Gary and his wife, Laurie, moved to Nashville, where he signed as a staff songwriter with Sony/ATV Tree. The Ogans now once again call Portland, Oregon home, where Gary continues to write, record, and perform.
Sound Ground is Gary Ogan's latest release.
Check out more at Gary's Website.


Download $9.99
---
Don Hall
Sometimes you have to get lost to find your way back home... When Don Hall left Nashville in the mid-90s, he turned his back on a fast-blooming career as a songwriter. For a few brief, intense years, he'd been up there with the best of them, wielding his pen and guitar on the front lines of Music Row. But along with a career, Hall admits he was also leaving behind some hard living and self-destructive habits. Back home in Salisbury, Maryland, Hall, a single dad, looked after his kids and ran a Laundromat. But deep down, a restlessness was gnawing at him. "I was always in a bad mood," he says. "Then my buddy said to me one day, 'You know what? You're a songwriter. That's what you're supposed to do.' He was right. I'm a songwriter, first and foremost. And I do it because it keeps me in a good mood. If I don't do it, I stay in a bad mood. It's an outlet. I tried to put it aside. But when I finally started doing it again, there was this feeling of release."
As Hall reconnected with his muses, he began to assemble songs new and old for his first-ever solo album. It became a way to make sense of his own life. With unflinching honesty, his lyrics address the big questions we all wrestle with: good and evil, freedom and responsibility, fate and free will. In thinking about his own journey, Hall says he can distill it down to one underlying theme: "The bad man, the holy man and me. That's what I write about." Aside from the consistency of the writing, what helps make the album sound so cohesive is the tasteful playing by top Nashville session cats like keyboardist Tim Lauer, guitarist Gary Burnett, bassist Steve Mackey, and the legendary steel guitarist Al Perkins.
Check out more at Don's Website.
---
Music of Coal
Two years in the making, this pair of audio CDs contains 48 songs addressing various aspects of coal mining history and culture, including black lung, union  organizing, environmental impacts and the contribution of coal to the national economy. The CDs are accompanied by a richly detailed book of liner notes with striking historical photographs.
"This has been a collaborative effort involving many people in the Wise County area as well as noted experts across the country," said Paul Kuczko, director of the Lonesome Pine Office on Youth and executive producer of the CD project. "We've assembled more than two hours of music that truly gives the flavor of our coal mining heritage."
According to Jack Wright, who produced the CDs and wrote the liner notes, the musical collection is a "hybrid" of old and new songs - some previously recorded, others produced specifically for this project. "We chose some songs that came out previously on independent labels and may not have been well known, but are vital in telling original stories from the heart of the coalfields," Wright said. "In addition, we have well established artists represented here, like Ralph Stanley, Dwight Yoakum, Natalie Merchant, Tom T. Hall, Blue Highway and the Carter Family."
Check out more at the Music of Coal website.
---
Tennessee Mafia Jug Band
From the pastoral hills, hollers, shopping malls and interstate highways of Goodlettsville Tennessee, home of Bill Monroe, Bashful Brother Oswald, Stringbean, Grandpa Jones, Keith Whitley and some living country music performers, comes the most entertaining "blast from the past" since Lester Moran and the Cadillac Cowboys. They're the Tennessee Mafia Jug Band -- five guys and a scrubboard, with roots like wisdom teeth.
The Tennessee Mafia Jug Band has a CD "Barnyard Frolic", and they've had a video on CMT and GAC cable TV. They can be heard on the sound track of Faye Dunaway's movie "Yellowbird". They provided the entertainment for the society wedding of Billy Bob Thornton and Angelina Jolie a little while ago -- you see how well that turned out. Hot picking, powerful harmony singing and riotous hijinks that will perk you up between the "hot young country" acts -- that's the Tennessee Mafia Jug Band, and thank God for them.
Check out more at the Tennessee Mafia Jug Band's website.
---
Gary Nicholson
Whether you are looking for a hit song, a cool guitar groove, a great record production, or a top entertainer, Gary Nicholson is your "go-to" guy in Music City, USA.

A 2006 nominee for the Nashville Songwriters Hall of Fame, Nicholson has had more than 350 of his songs recorded, has won 26 ASCAP songwriting awards, and is responsible for more than a dozen major hits. Unlike most tunesmiths, he is not bound by musical genre. His songs routinely top the country hit parade, but rock bands, blues artists, folk stars and bluegrass acts have also embraced him as a songwriter.
Check out more at Gary's Website.
---
Appalachia: Music From Home
The traditional music of the Appalachian Mountains is as rich as the varied cultures of Native Peoples who originally lived here and the immigrants who came from all over the world to live in this richly complex ecological environment. Sheltered and guarded, first by Native Peoples and by the sheer rugged wilderness that kept European people trapped on a narrow strip of colonization - bounded by the Atlantic Ocean on one side and the seemingly impenetrable Appalachian Mountain ranges on the other - the land of Appalachia was, and still is, a vast repository of secrets and treasures. In this environment of natural and chosen isolation, balladry of Europe and the British Isles, Native tones/language, and African rhythms blended to fashion a stylistically rich body of unique and creative traditional American Music.
This is a richly diverse sampling of music that embodies both the spirit and cultures of the people who have lived in this complex land. The CD willingly pays respect to pioneers like Ralph Stanley, Jean Ritchie, Dock Boggs, and Carl Martin, but also embraces new musical artists like Nathan Stanley, Molly Slemp, and The Midnight Ramblers who are keeping the music alive and vital into the 21st Century. Appalachia: Music from Home acknowledges the traditional but also recognizes the important roles of the songwriters who constantly enrich and fertilize the roots: Blue Highway's "Union Man" focuses on a dark side of American history in the story of coalminer and union organizer Tillman Cadle; Darrell Scott's "Banjo Clark" enfolds the traditional "Old Joe Clark" into a new tale of the coming of the "banjer" to America in the belly of a slave ship; Mitch Barrett's "Shady Grove" respects the much sung traditional version but spins it into a tale of inter-racial love, and Ron Short's "Garden is Growing" is an anthem to Appalachia, this magical land these artists call "home"!
Check out more at the Appalachia: A History of Mountains and People website.
---
Dana Cooper
Singer/songwriter Dana Cooper has wowed audiences throughout the U.S. and Europe recently with tunes from his newest album, Made of Mud, to be released on September 13th on King Easy Records. Cooper's ingenious guitar work and gutsy harmonica continue to augment his passionate voice and insightful lyrics. This collection of eleven songs produced by Richard McLaurin features acclaimed Nashville talents Dave Jacques, Paul Griffith, Eric Fritsch, Steve Hermann and Vickie Hampton.

Out of the heartland of America - the stomping ground of Truman and Twain - Cooper was playing his music in Kansas City clubs by the age of 16. Leaving behind a college art scholarship, Dana toured the country and landed in Los Angeles. In 1973, Elektra Records released his self-titled debut solo album featuring luminary players Russ Kunkel, Leland Sklar and Jim Horn. Cooper later moved to Texas to join forces with long-time friend Shake Russell. Their collaborations produced five highly successful folk-rock albums, including one on MCA in 1981. The two became one of the most popular acts throughout Texas and the Southwest appearing together on Austin City Limits. Dana and Shake continue recording and performing together to this day...
Check out more at Dana's website.
---
Keith Greeninger
Keith Greeninger paints intricate portraits of the human condition with powerful melodic images, deep engaging guitar rhythms and warm heart wrenching vocals. He is a multi award winning singer songwriter and this year's winner of the prestigious Telluride Troubadour National Song Writing Competition. A third generation Northern Californian, Keith grew up at the edge of the vanishing orchards of the Santa Clara Valley. As a young boy he would often fall asleep at night with a transistor radio under his pillow. He could remember lyrics after only one listen and the melodies came just as readily. With that radio tucked under his pillow, Keith Greeninger discovered a passion. That's where it all began. He got his first guitar at the age of 13 and wrote his first song the same night Learning the chords to Hang Down Your Head Tom Dooley, by dinnertime, he was singing a self- penned tune about his grandfather. For Keith, the guitar had provided a creative catalyst; and the words and music began to flow.
Check out more at Keith's website.
---
Last Train Home
"One of the country's most formidable roots-rock bands."
That's the assessment of critic Peter Cooper of Nashville's Tennessean newspaper about Last Train Home. And while roots-rock is the heart of LTH's sound, don't overlook the country, swing, bluegrass, blues, folk, mariachi, punk, pop, and Tin Pan Alley influences you'll find if you lend this band an ear. What began as a part-time band in Washington D.C. back in 1997 has evolved an acclaimed full-time touring unit based out of Nashville.
In 2005, LTH performed on the CBS "Late Late Show with Craig Ferguson," and on the public radio show, "Mountain Stage," and was named by the Tennessean as one of the finest live acts of the year: "Best Live Show of 2005: Tie between Neil Young at the Ryman and Last Train Home at the Family Wash."
Named Washington D.C.'s "Artist of the Year" in 2003, Last Train Home went full-time the same year. Its frontman, Eric Brace, is a former staff writer for The Washington Post where he was a columnist covering the local music and nightlife scene. Joining Eric in the core of LTH is bassist Jim Gray and drummer Martin Lynds, who have become a much-in-demand rhythm section since their move to Nashville in 2003. They've been the engine of this train since its first gig opening for the Waco Brothers at Washington's Black Cat club in February, 1997.
Check out more at Last Train Home's website.
---
Wayne Scott
It was a calling. That's the only way to describe the spiritual lure that country music had on Wayne Scott as a young boy growing up in the small Kentucky town of Cranes Nest. When he discovered country music, it satisfied his soul in a way that nothing had before or has since. Every Saturday night, he listened to the Grand Ole Opry, and still does. As he grew older he found patron saints - Hank Williams, Johnny Cash and Lefty Frizzell - whose songs would reveal the mystery and majesty of the heartbreak and hope found in the musical format that would shape his life.
 
"My family was slightly musical," he says. "Everybody could play something, but I think I had a disease of it. I was born to want to play and sing."
 
As a teenager he began to write songs, often skipping school or social events to go off into the woods alone where he would write and practice guitar. Never a fan of school, he left home at sixteen and followed an older brother to Michigan...
Check out more at Wayne's website.
---
Jordan Chassan
Some artists stick to the narrow path; others need to wander the landscape a little. They're not the caged-in kind. They're more free-range, you might say.
Singer/songwriter/guitarist Jordan Chassan has done some traveling in his time. Over two decades ago, he emerged from Montclair, New Jersey to perform at CBGB and make his mark on the New York club scene with innovative bands like Stuart's Hammer and the Young Hegelians. In the early 1990s, he moved to Nashville in hopes of refining his idiosyncratic folk/country/jazz/pop blend further. From there, his sonic terrain has gone off the map, taking him to a place somewhere East of Bristol, West of Knoxville.
East of Bristol, West of Knoxville is a Pilgrim's Progress tour of an American landscape beyond the well-beaten pop music track. "It's something of a song cycle," Chassan says.
Check out more at Jordan's website.
---
Bill Sheffield
The Delta, dark and muddy, flows through his veins. His voice laments and wails, it prays and pleads. His fingers dance along the strings of a travel-worn guitar to an ancient and mystic melody. His heart beats sin. It beats again for salvation. There may just be a hellhound on his trail, but he's got one foot on the church step. Everything about Bill Sheffield is the blues. It's there in the intense, transcendent way he finger picks his guitar with hints of John Hurt and Blind Blake flashing through. It's there in his songs that wrestle with earthly pleasure and the need for redemption. And it most definitely is there in Journal On A Shelf, his latest studio recording on American Roots Records.
Journal On A Shelf distills a lifetime pursuit of the blues and authentic American roots music into 14 songs that announce the arrival of one of the most significant roots musicians to emerge in the past decade.
Check out more at Bill's website.
---
Darrell Scott
Darrell Scott is a powerful musical spirit. A Grammy-nominated artist, an award-winning songwriter, and a first-call session musician, living and working (literally and figuratively) on the fringes of Nashville's Music Row, Scott occupies his own unique half-acre in this city's crowded musical landscape. In a town that's got pigeonholing down to an art, Darrell Scott stands out as a refreshingly mischievous artist.

The Invisible Man, Scott's sixth release, finds the artist at the peak of his powers, drawing from a rich well of influence and experience to create his most fully realized work to date. From the album's opening lyric, "In the early morning hours, just before you're wide awake," to its closing title, "In My Final Hour," The Invisible Man traces a thematic arc between waking and sleeping, living and dying, shining a brilliant light on the fleeting moments between...
Check out more at Darrell's website.
---